Above L-R: Wayman Guider (trombone), "Bubbles" Huff (alto and bari sax), Toby Smith (trumpet), Michael Richard (guitar and vocals), Zuri (vocals and percussion) Bobby D (drums and vocals) Ron Wilkerson (keys/key bass and vocals)
Following the recording sessions of the Dukes of Soul, singer Rudy Luv and guitarist Scott Ellison moved on to other pursuits. At around that same time, Andy Gutman, who I had vowed never again to play with, called to introduce me to a new drummer/singer he had found, Bobby Dixon (who everybody called Bobby D). Bobby D's warmth, along with his musical abilities, won me over (allowing me to forgive and forget things with Andy, at least temporarily), and we reformed the Dukes of Soul into a new band called The Hitmen. Playing the soul and R&B hits of the sixties, The Hitmen did hundreds of gigs around the LA area, including The Lighthouse in Hermosa Beach, where we became, for a time, their house band. We had a good run, adding singer Rick Fitts, sax player Victor Cisneros, and a new guitar player, Michael Richard, who we met through a brief collaboration with LA radio DJ "Machine Gun" Kelly's "other Hitman" band.
The big switch for me, at this time, was playing left-hand bass on my split keyboard rig. I had always had a strong left hand (and loved bass players like James Jamerson, Paul McCartney and Duck Dunn) so I reconfigured my rig and covered both key and bass parts from that point on. This also made the band incredibly tight, because as long as Bobby and I were locked in (which was nearly always) the train never went off the tracks.
After a few successful years, the old arguments with Andy resurfaced, and I decided to leave The Hitmen, which subsequently broke up for all the usual reasons. A few months later, I got a call from Bobby D, asking if I would play keys/bass for a new band he was putting together, a band in which he, the drummer, would also be the lead singer. Michael Richard, who I loved, was brought in for guitar, and Bobby also added a singer, Zuri, who he introduced as his cousin. Though she went by one name, her last name was Dixon, and it wasn't until years later that I found out that "cousin" was really just a term of endearment, rather than an actual relation.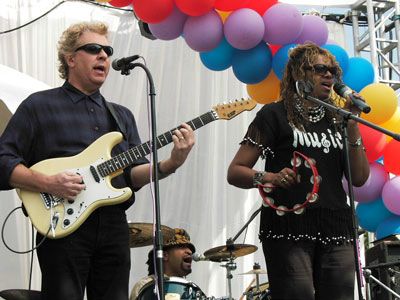 Bobby D and the Mixx played hundreds of gigs throughout Southern California as a four-piece, and whenever we could afford the budget, we'd enlarge the band by adding a horn player, or two, or three, or four. Playing music with these musicians was an absolute dream. All were fantastic performers, and though Bobby D and Zuri handled most of the lead vocals, Michael and I also got to do a few leads, as well as backups on most songs. This was, without question, the most musically satisfying band in which I have ever played. We did so many gigs together that putting on a performance was as comfortable as putting on favorite pair of jeans.
Tragically, we lost Michael Richard to cancer in 2006, and then Bobby D to a sudden heart attack at the age of 49 in 2008. It's impossible to describe the loss of such wonderful friends and musicians. When we were playing together, we were so "in the moment" and enjoying our own form of communication, that we could never believe that one day (sooner than any of us knew) the music wouldn't be there. I've continued on, as has Zuri and the other musicians. But it's hard to believe that the immense talents of Bobby and Michael have forever been stilled. After Bobby D passed, I created this page to his memory, and to feature his incredible voice. Scroll down and you can hear lots of songs featuring his voice and drumming. There is also a Tribute to Bobby D on this site
HERE
.
The song playing is our cover of Heatwave's "Always and Forever" from one of our live concerts. The song was recorded after Michael Richard passed. The guitar player is Tony Mathews, and the trumpet player is James "Smitty" Smith who filled in when a tunnel fire on the 5 freeway prevented Toby from making the gig. Zuri does the introduction for Bobby. Backing vocals are Zuri and me. Bobby would be gone just a month after this was recorded. But he will live forever in our hearts.
Listen To The Band:
Some of our favorite gigs were the annual outdoor concerts we played for many years at the Fall Festival at St. Paul's School in Westwood, CA. In 2007 and 2008 we hired recordist Robbin David to capture these gigs on digital, never suspecting they might be some of Bobby D's last recordings. They also turned out to be some of his best. (Bobby D passed away a month after the 10.11.08 gig.) "Down in history, baby" at the end of "I Got You, I Feel Good" are the last words he recorded.
All the music here was recorded live and most of it was also mixed live. There are glitches here and there and occasional wind noise in the mics: things you'd expect on an outdoor live gig. Sometimes, a solo wasn't cued up properly. But it's all very real, and showcases Bobby's enormous talents, as well as those of the band. Here are the lineups:
10.13.07* Bobby D: Drums and Lead Vocals, Zuri: Lead and Backing Vocals, Ron Wilkerson: Keyboards, Key Bass and Backing Vocals, Tony Mathews: Guitar, Bubbles Huff: Baritone and Alto Sax, Chuck Johnson: Tenor Sax and Flute, James "Smitty" Smith, Trumpet and Flugelhorn.
10.11.08** Bobby D: Drums and Lead Vocals, Zuri: Lead and Backing Vocals, Ron Wilkerson: Keyboards, Key Bass and Backing Vocals, Tony Mathews: Guitar, Bubbles Huff: Baritone and Alto Sax, Chuck Johnson: Tenor Sax and Flute, TobySmith, Trumpet and Flugelhorn.
Click PLAY on the music player to hear the full length versions of our music.
Always and Forever*
Under the Boardwalk**
I Heard It Through The Grapevine*
Knock On Wood **
Just My Imagination*
Let's Stay Together*
Respect**
Baby Come To Me*
When The Saints Go Marchin' In*
Dancin' In The Streets*
Papa's Got A Brand New Bag/I Got You, I Feel Good**