About NFL Uniforms:
I've been bothered by this new trend of football players whose long hair obscures their names. Having the players names on their jerseys was one of the great contributions the AFL made to the NFL during the merger. But I think I may have found a workable solution. Oh, wait. There's nobody in the NFL named Abercrombie, is there? Because that might be a bit of a problem.
01.05.13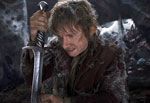 About The Hobbit:
Got a DVD screener of
The Hobbit: An Unexpected Journey
, and watched it over the last two nights. Really enjoyed it. Martin Freeman is fantastic as Bilbo Baggins. It was a visually spectacular realization of the first half (or so) of the novel. And I didn't mind at all the new story elements that Peter Jackson added (the vengeful Orc). If you were a fan of the three previous LOTR films (as I was) you won't be disappointed.
12.18.12
About Spending:
So this Christmas, I looked at my debts, and I had $670,000 owing on my credit cards. True, I only make $100,000 a year, but I really wanted to buy some more presents for friends and family. So I figured, what the heck, what's a little more debt? So I went out and spent another $154,000 and bought some really cool things. I'm sure everyone is going to be very happy, cause I made sure to give presents to both Democrats and Republicans. I feel just like Santa Claus, so I'll probably do the same thing next year. Signed, Uncle Sam.
This lesson in fiscal irresponsibility (our national debt, illustrated on a personal income scale) is brought to you by a taxpayer. Merry Christmas!
12.22.12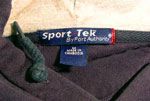 Tag, You're It:
OK, this is a small bump on the "Road of Life's Irritations," but why do they make clothing out of comfortable fabrics like cotton and microfiber and then sew in company name tags that feel like you have a praying mantis perennially perched on the back of your neck? And, of course, they are sewn in so that if you remove them, you nearly destroy the article of clothing. I have become expert at removing these atrocities with my trusty X-Acto. But why isn't there a company called "Comfort Tags?"
12.18.12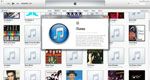 About Technology (Part 2):
I know I was a little bit mean to Apple the other day when I made fun of their stupid commercial for the iPad Mini (below). Well, today, they got revenge. It's called iTunes 11.0. (Note to self: please stop assuming that the upgrade is going to be better than the version you're currently using.) Took me an hour an a half to figure out how to change the order of songs in a Playlist - not for the faint of heart, I assure you. Why is it whenever I use an Apple product, I feel like I've gone communist?
12.01.12
A Certain Sports Writer:
So Mr. Jerry Sullivan, columnist for The Buffalo News, has had it with Buffalo Bills coach Chan Gailey. He says, in his column, that Gailey should be fired. The problem is, that Jerry's too stupid to see that, in spite of some heartbreaking losses this season, the Bills are a much better team under Chan than they have been in the past decade. Sure the losses hurt (and, believe me, I've been a Bills fan a lot longer than most: see my
essay
). But the team now has something to build on. Well you know who I think ought to get fired? Jerry Sullivan.
More
12.11.12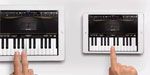 About Technology:
This is supposed to be cool, but it's
pathetic. The one-finger user of the iPad on the left plays the bass part to "Heart and Soul" while the one finger user of the iPad Mini on the right plays the solo part. What's wrong with this picture? Technology should make us better, not dumb us down. A piano that has at most two octaves is not a piano, nor is it a musical instrument in any but the most primitive manner. A "piano" that is played with one finger is nothing but a child's toy. Is that what this commercial wants us to think about the iPad Mini? And, oh by the way, neither one of these "instruments" sounds remotely like the "Grand Piano" indicated by the icon above the keyboard. I'm sure the iPad Mini is a very cool device, but you wouldn't know it from this commercial. At least kindle commercials didn't sell us on stupid.
11.29.12
Public Displays of Intolerance:
Nothing gets me in the Christmas mood more than the news of yet another Nativity scene being forcibly removed from public display (Santa Monica, CA, Arlington Heights, IL, etc.) by self-righteous atheists who seem to have nothing else to do with their lives. In the grand scheme of things, I actually don't mind this kind of story. Maybe a little public persecution is good for us Christians... stiffens our backbones. At least they're not throwing us into a Coliseum to be eaten by lions... yet, anyway. As I recall, Jesus didn't exactly have an easy time of it. And this sort of thing helps to remind us of what we should be celebrating rather than Black Friday and Cyber Monday.
11.26.12
About Life:
At Thanksgiving we all try to think of things for which to be thankful. I remembered the time, nearly eighteen years ago, when my very pregnant wife, Beverly, wrapped her arms around my back and gave me the Heimlich maneuver to save me from the piece of chicken I was choking on. I couldn't take a breath, and literally thought I was at the end of my life. She said at the time "I'm not going to have this baby without you!" She didn't. And, as a result of her quick thinking, I'll always be thankful for being a part of our daughter Meredith's life.
And that got me thinking about all the things I would have missed if my life had ended those years ago. And I think about the friends and family I have lost in recent years, and how my life was changed by that loss. But I also think about how enriched my life was by having the experience of knowing them in the first place. Please read about some of these amazing people on the
Tributes
pages. It's a funny thing, this game of life. It's something we seem to take for granted, until we're faced with the prospect that it may not be here tomorrow. I am honestly grateful for the life I have and the people that are in it with me. Hope you are, too. Happy Thanksgiving.
11.22.12
The Election:
One of my rules for this site is that it be free of politics. It's not that I don't have a political view (believe me, I do, and perhaps, at times, it will sneak into my writing). But I feel quite strongly that the political environment, especially during election times, has become so polarized that each side too often dismisses the views of others if they think they are on the opposite side.
In short, we stop talking to each other, and that's not a good thing. I'd really like for this site to be a place where we can exchange ideas. I write about mine, you write me back. And as long as we have a USA we will (hopefully) have a place for our free speech. So what you'll find here are discussions about life, love, ethics, philosophy, music and art, hopefully free of an obvious political bias. Besides, there are lots and lots of places to go on the web for politics. Let this be one place that is free of them. So go vote, or not. That's your decision, and I'm not interested in influencing it in either way. OK, maybe I'm interested. But I'm not going to do it.
11.04.12
Bad Grass:
I hate artificial turf for football. It leads to more injuries, and more serious injuries at that. I also hate the fact that players don't get dirty. I mean, seriously, is this football or T-ball? Maybe I'm old school, but, if you're going to have this hideous abomination, shouldn't it at least look a little bit like grass? As in, shouldn't it be green? What is this field from tonight's game in Atlanta? Are they playing on an asphalt parking lot? We get wide screen HDTVs and they only show us how lousy the game looks. The field in the dome in New Orleans is even worse. Come on, man! At least paint the damn thing green. And don't get me started on Boise State!
11.04.12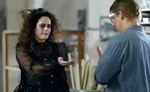 A Witch In A Broom Factory:
I have to admit that I laugh every time I see this Geico commercial. The idea of workers in a broom factory being held hostage by a witch who flies around the production line while none of them are willing to "stand up to her" is just too ridiculous. Doesn't make me want to buy their insurance; though I do appreciate their sense of humor.
10.23.12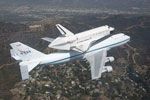 Endeavour's Last Flight:
A lot of people turned out for the flyover of shuttle Endeavor prior to its landing in Los Angeles for its permanent installation in the California Science Center Museum. From the comments I read in the news, it appeared, for many Angelinos, to be an awe-inspiring event, a powerful moment that produced goosebumps. My reaction was more as if I was watching a hearse go by on the way to the cemetery. Because Endeavour's last flight was not only the end of the shuttle program, it was also the end of NASA's manned flight missions. Mercury, Gemini, Apollo, Space Shuttle, and now... nothing (aka FUBAR in NASA-speak). Much as I appreciate R2D2 motoring in slo-mo across the plains of Mars, it's not exactly the same thing as sending John Carter there. From now on, if we want to put Americans into space, they'll have to hitch a ride with the Russians or Chinese. Why? Because of all the items in the hopelessly bloated federal budget, the one program that was cut by the President was the Constellation Program, whose objective was to establish a manned colony on the Moon, then manned missions to Mars and beyond. Guess we didn't need to go to those places, after all. And so, NASA's budget was reduced by over $1 billion each year. But, not to worry, I understand that there's a new Jobs Program to take care of all those laid-off NASA employees in Florida.
09.24.12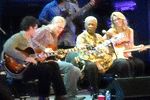 B.B. King:
The King of the Blues appeared last night at the Hollywood Bowl, and Beverly and I enjoyed every minute of the show. He'll turn 87 next week. Can he still hit the high notes or play all the licks? Heck, no. But... he surrounded himself with lots of younger musicians who were privileged to help him out. The opening act was also quite good: the Tedeschi Trucks Band, who did, among other great songs, a flawless version of George Harrison's
Wah Wah
. B.B. took the stage with his band and played a few hits before bringing out the young guns. The picture here is with John Mayer, Derek Trucks and Susan Tedeschi - all great musicians who performed by his side along with his band. B.B. King filled the Bowl with more than great music, he filled it with the warmth of his personality, and also a message for all musicians - if you want to be a very young 87, keep on playing music! Thanks for the lesson B.B.!
09.06.12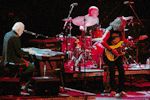 Procol Harum:
Beverly and I saw Procol Harum last night at the Gibson Amphitheater at Universal Citywalk. What a great show: no frills, just five guys playing really well. They were the opening act for Yes, who was, sadly, an anticlimax. Even though I was a big fan of Yes in their day, this performance was marred by a bad sound mix at ear-bleeding volume (and I was wearing foam ear plugs). We didn't even stay for their whole set. But Procol Harum was a tough act to follow. Gary Brooker's voice is as strong as ever, and he doesn't miss a note (he's on the left in the picture). An amazing set... "A Salty Dog," "Homburg," "Strong as Samson," "Conquistador," "Simple Sister," and the best version I've ever heard of "A Whiter Shade of Pale." It's so great to hear really good musicians play the songs they love in a simple setting with a great sound mix. Very little show biz. But lots of great moments.
08.16.12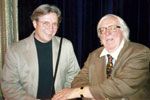 Ray Bradbury:
One of my heroes passed away today. Though I did not know Ray Bradbury personally, I met him several times at writers' events in LA (see geeky photo of me with Ray). His words and his actions (he was a writer up to the end) have inspired me through life. I can say without question that Ray was one of the reasons I became a writer.
One of my favorite stories that he told about himself was how, when he became the father of a young child, he found it difficult to write at home. But he learned that he could rent a typewriter at the typing lab at UCLA (beneath the library) for ten cents an hour. And that's where he wrote
Fahrenheit 451
. Rest in peace, Ray Bradbury. Your life will be celebrated forever through time and space.
06.06.12
The Music Man:
This past weekend saw the production of
The Music Man
at St. Paul The Apostle school in Westwood, co-directed by my wonderful and incredibly talented wife, Beverly. Every year her productions grow more sophisticated and the song and dance numbers more complex. It's really amazing to see the performances she gets from these kids (3rd through 8th grade). Congratulations, B! I can't wait to see what's next.
05.14.12


About Coyotes:
Yes I know they're mean and predatory, and I'm never happy to run into them when I'm out walking Dugley and Buffy (which is why I always carry my trusty "Stray Dog and Coyote Bopper Stick" which is enough to scare them off). But sometimes, mean and predatory can be appreciated, especially since our canyon has been overrun by gophers.
More
04.14.12

Too Bad About John Carter:
I must admit that I'm disappointed to read of the apparent failure of Disney's
John Carter
at the box office (but probably not as disappointed as the folks at Disney). Two-hundred-fifty million in production costs, and only thirty million at the opening weekend box office? Not good.
More
03.13.12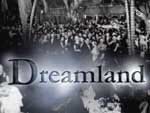 Deadline Hollywood on Dreamland:
Dreamland is the TV Project I'm writing about the Golden Age of Hollywood, seen through the experiences of Billy Wilkerson, the founder of The Hollywood Reporter. Billy also founded the Sunset Strip with restaurants like Cafe Trocadero, Ciro's, and the Las Vegas Strip with the Flamingo hotel. The story of Dreamland (linked to the picture on the left) was leaked to Deadline Hollywood, and is all the news I can report at this time. My partners on the project are Robert Cooper (from Stargate) and Billy Wilkerson's son, Willie Wilkerson. Because this story was leaked and didn't go through official channels, my name is not included in it, but, trust me, it is my project nonetheless.
More
03.06.12
What Was I Thinking?
It seemed like a good idea at the time... Create a place to put all that stuff that's just sitting on my hard drive, stories, music, news, stuff in progress, stuff I'll never work on again. So peruse the web site. Hope you find some things to enjoy.
This site is very much a work in progress, so bear with me as I get things going, and check back from time to time to see if I've made any improvements. I'll try to post something new each week.
03.03.12

BACK TO NEWS