It's actually another language, communicating with other musicians through your instrument, your singing voice, your eyes and hands... and there's nothing else like it. Here are a few of those experiences.
Jr. Mince and the Dukes
With the Soul/R&B Band, Jr. Mince and the Dukes, I played the LA club scene from the mid to the late 1980s. Click on the picture or the link to see where it began.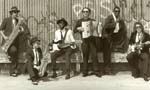 The Dukes of Soul
The successor band following the departure of Jr. Mince, the Dukes of Soul carried on and eventually merged with The Hitmen, which became Bobby D and the Mixx.
Bobby D and the Mixx
Following the Dukes of Soul came the collaboration with Bobby Dixon, one of the best musicians with whom I have ever played. The partnership lasted nearly twenty years until his tragic death in 2008. Click on the link to read our story.