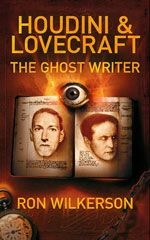 Now Available!
My novelization of my feature screenplay
Houdini & Lovecraft: The Ghost Writer
is now published as an eBook on Amazon for Kindle, a paperback, or as computer download to a PC.
Houdini & Lovecraft: The Ghost Writer
A rousing horror/sci-fi adventure that unites two of the most influential figures of the early twentieth century: the great magician Harry Houdini and the renowned horror writer H.P. Lovecraft.
It's 1924, an era of emerging technology, but also of spiritualism and magic. Harry Houdini, the great conjurer and mystifier, well known as a psychic debunker, is hired by the obnoxiously wealthy Caswell Bullock to put together a team to investigate a purportedly haunted mansion Bullock owns in the hill country of western Massachusetts. Meanwhile, horror writer H.P. Lovecraft is down on his luck and struggling to pay the hospital bills for treatment of his wife, Sonia, who is seriously ill.
Houdini drafts the reluctant Lovecraft to join his team as his "Ghost Writer," to chronicle the magician's adventures in the paranormal. There is little love between the two vastly different men who come to have entirely opposing views of the happenings in the strange mansion. But their investigation triggers events that cause the team to become trapped in the mansion, and its members soon find themselves under attack by deadly invisible forces. Houdini, the professional skeptic, and Lovecraft, the believer, become a 1920's version of Scully and Mulder, and their contrasting natures and styles form the personal backdrop to an adventure that could cost the lives of their team as well as their own. Lovecraft's research ultimately uncovers the truth of the place, and it's no mere ghost story. But can Lovecraft, the believer, convince the skeptical Houdini of the real danger before they are all destroyed?
Available on Amazon for Kindle, in paperback, or PC download.

CLICK HERE
to go to the Amazon page to buy, or "Look Inside" to read Chapter 1 for free!
I was fascinated by the relationship between these two men, absolute icons of their era, and the fact that they actually collaborated. So I thought about a "what if?" scenario, and came up with the idea that there was, in fact, another collaboration between Houdini and Lovecraft, only this one became an adventure that was so horrifying and shocking that the true story couldn't be shared with the rest of the world... until now.
This has long been one of my favorite scripts, mainly because these two men are so different: Lovecraft came from a wealthy family, but, by 1924, had fallen on hard times, Houdini came from abject poverty, and had raised himself up to the absolute pinnacle of fame and fortune. Lovecraft was a Yankee blue-blood, Houdini was a Hungarian immigrant who spoke with an accent. The script came very close to a movie deal when I first wrote it, but, as often happens in Hollywood, not every good idea gets produced, while a lot of bad ones do.
So, this year, I took it off the shelf, dusted it off, and rewrote the screenplay as a novel. This gave me a lot of opportunity to flesh out the story, the relationship between the two men, and the other members of their psychic team. Anyway, I'm glad it's on Amazon's shelf now and not just on mine. It's a lot of spooky fun! 10.09.12